Monogram Reserve Series
The Monogram Series is a collaboration between Mahonia Vineyard and award-winning letterer and designer, Jessica Hische. The project features a series of exquisite monograms that are applied to the finest wines that are produced in our cellars.
MAHONIA VINEYARD MONOGRAM RESERVE SERIES
Traditionally, our Willamette Valley Pinot noir is a blend of the various classic varieties and selections (or clones) of Pinot noir that grow in our vineyard.
However, beginning in 2011 we thought it would be fun and interesting to offer our friends and fans the opportunity to experience the elemental 'backbones' of some of our most celebrated wines. In the mid-1980's, new clonal 'selections' were developed in France by Dr. Raymond Bernard of the Office National Interprofessional des Vins (ONIVINS), and were later imported to the United States by Oregon State University and UC Davis. Working closely with Dr. Bernard, Mahonia founder and owner, John Miller, hand selected a diverse mix of clonal material ranging from classic Pinot noir selections, such as Pommard, to one of the oldest Oregon selections of "Dijon Material" including Clones 113, 114 and 115.
The Mahonia Reserve Series is an exciting opportunity to experience how each of the various clones contributes to the elegant aromatics and concentrated fruit flavors of Pinot noir, such as cherry, cranberry, plum and raspberry, to name a few. In many ways the 'Reserve Series' represents a horizontal 'deconstruction' of our classic Willamette Valley Pinot noir. One or more clones has been celebrated beginning with Dijon Clone 115 from our 2011 crop.
These highly collectible, hand numbered bottlings were limited to 20-30 cases and feature exquisite labels and packaging designed by acclaimed San Francisco-based letterer, illustrator, and typographer Jessica Hische. A celebrated wine ever before it was released, the 115 was featured as a winner in the Communication Arts Typography Annual.
The Monogram Reserve Series is a collaboration between Mahonia Vineyard and award-winning letterer and designer, Jessica Hische. The project features a series of exquisite monograms that are applied to the finest wines that are produced in our cellars.
Naturally high yielding, medium sized berries, and early ripening. Notable tasting characteristics include; earthy notes with accents of butterscotch and black pepper.
2012 Pinot Noir Reserve
Deep and vivid ruby.  Complex nose of dark fruit complimented by earthy notes of tobacco and spice. Energetic flavors of raspberry, dark cherry and blackberry on the palate that deepen into a sophisticated mouthfeel that has balanced acidity and a creamy finish.
2012 Chardonnay Reserve
Lemon curd, citrus and tart green apple on the nose followed by a wonderfully round and creamy mouthfeel with balanced acidity and a lingering finish.
2013 Pinot Noir Reserve
Violet and floral notes give the nose a delightfully rustic note. Flavors of dark plum, cherry and raspberry are accentuated by grippy tannins, and delightfully balanced acidity. It finishes smooth, with a hint of orange zest.
2013 Chardonnay Reserve
Floral nose of white flowers. Key lime pie with a mild hint of oak, creamy mouth feel. Long finish.
2014 Pinot Noir Reserve
An expressive nose of ripe cherry, red raspberry and a hint of cinnamon develops into complex dark fruit flavors on the mid and back palate. Beautiful mouthfeel with sustaining tannins and smooth finish.
2014 Chardonnay Reserve
Creamy and rich, while there is oak present on the palate, this Chardonnay is balanced, clean and fresh.
2015 Pinot Noir Reserve
Engaging aromas of ripe berries, warm spice and hint of earthiness framed by citrus. Soft, smooth in the mouth in an elegant style with mellow flavors of black cherry, dark currant, raspberry and spice. Strong tannins, energetic acidity and velvety finish.
2015 Chardonnay Reserve
Energetic and balanced with notes of apple, Meyer lemon and tropical fruit, complemented by lingering flavors honey, citrus and mineral. Bright, balanced finish.
2016 Pinot Noir Reserve
Delicious notes of blackberry, black currant and plum on the nose lead to a smooth, rounded mouthfeel backed by firm, structured tannins, complemented by notes of dark cherry, jasmine, and a hint of vanilla. Long juicy finish.
2016 Chardonnay Reserve
Bright and lively nose of citrus fruit, green apple and lemon zest, followed by a nicely textured mid-palate framed by fresh, lemony acidity. Complex flavors of tart apple, citrus and mineral.
2017 Pinot Noir Reserve
Complex nose of cherry, raspberry, spice, and orange zest. The palate is plush and round with a bright, energetic array of fresh cherry, strawberry and red raspberry. Crisp, bright finish.
2017 Chardonnay Reserve
Expressive aromas of honeysuckle, pineapple and citrus fruit, followed by notes of subtle oak, honey, and green apple. Softly scented with good acidity to balance the fruit and a surprisingly creamy palate.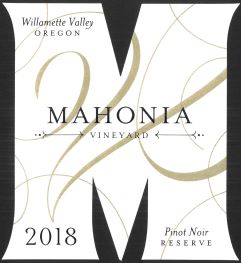 2018 Pinot Noir Reserve
Glistening ruby red. Savory aromas of dark cherry, blackberry, plum and violets. Medium bodied with delicious flavors of cherry, raspberry and stone fruit with balanced tannins and fresh acidity. Fine structure and layered texture with a flavorful finish.
2018 Chardonnay Reserve
Bright, textured and aromatic. Green apple, Meyer lemon, and mineral notes on the noise are followed by a textured mid palate of tart green apple, tropical fruit, citrus and a hint of fresh ginger. Medium to full bodied with bright, fresh acidity, and a clean and refreshing finish.